Global Organic Textile Standard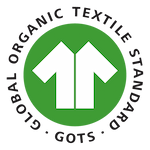 In het kort
Hoofdcategorie: Milieuvriendelijk en eerlijk
Gecontroleerd certificaat
Sterk actief op ecologische duurzaamheid, in het gehele productie proces
Actief op sociale duurzaamheid bij de ruwe en eind bewerking.
GOTS(79-94%) is actief op de ecologische duurzaamheid van grondstoffen, GOTS(95-100%) zeer actief.
De Global Organic Textile Standard (GOTS) is een internationaal keurmerk voor het verwerken van organische vezels tot onder andere kleding en ander textiel, met zowel sociale als ecologische richtlijnen. Het keurmerk verzekert dat het textiel biologisch geproduceerd is en heeft eisen die het hele productproces beslaan. Dit keurmerk kan dus gelden voor alle stappen van de productieketen. Omdat deze verschillende stappen vaak door verschillende bedrijven of instanties worden beheert, kan het keurmerk dus ook alleen gelden voor één stap in de productieketen. Zo heb je GOTS gecertificeerde katoen, maar ook GOTS gecertificeerde textiel fabrieken, weverijen, naaiateliers etc. Een kledingstuk is dus alleen volledig GOTS gecertificeerd als alle stappen van de keten GOTS gecertificeerd zijn. Bij Project Cece vermelden we het keurmerk al als er maar op één stap in het productieproces het keurmerk is behaald. We vermelden in de merkbeschrijving waar de certificering precies van toepassing is.
Het keurmerk van GOTS wordt alleen toegepast bij de volgende vezels:
Katoen (meest voorkomende)
Wol
Zijde
Vlas (linnen)
Hennep
Als deze vezels het GOTS-keurmerk hebben verkregen dan zijn ze biologisch geteeld, wat betekent dat er bij de teelt geen synthetische gewasbeschermingsmiddelen, geen genetisch gemodificeerde organismen en geen kunstmest is gebruikt. Er moet ook een waterbeheerplan zijn zodat er niet te veel water wordt verspild. Het GOTS-keurmerk heeft naast de milieueisen ook sociale eisen. De arbeiders horen een leefbaar loon te krijgen en te werken onder veilige en gezonde arbeidsomstandigheden.
Aan de fabrieken worden eisen gesteld zoals het beperkt gebruik van schadelijke chemicaliën en het gebruik van waterzuiveringsinstallaties. Ook worden bepaalde rechten voor fabriekswerkers verzekerd, zoals het krijgen van een eerlijk loon, het recht op het vormen van vakbonden en het recht op veilige en gezonde werkomstandigheden. Een meer volledig overzicht van alle eisen van het GOTS kan hier worden gevonden.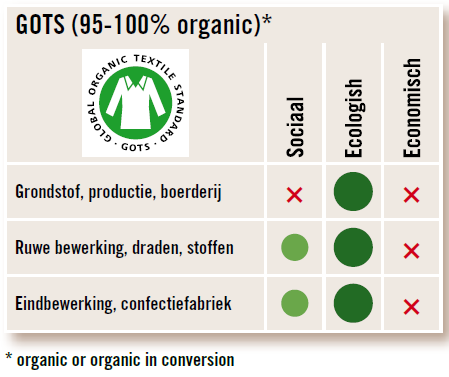 Bron: Goede Waar
Een textielproduct met het GOTS label organic moet voor minimaal 95% uit gecertificeerde organische vezels bestaan. Voor artikelen met het GOTS label made with organic moet tenminste 70% gecertificeerde organische vezels bevatten. Of een bedrijf of organisatie aan het keurmerk voldoet, wordt gecontroleerd door een onafhankelijke organisatie.
Een filmpje zegt soms meer dan 1000 woorden, hieronder een filmpje waarin de GOTS zelf uitlegt waar ze voor staan en hoe ze hun richtlijnen waarborgen.
Het GOTS-keurmerk wordt internationaal gezien als een leider in het waarborgen van sociale en ecologische criteria aan textiel.
Voor meer informatie verwijzen we je door naar:
Project Cece is een verzamelwebsite voor eerlijke en duurzame mode. Door de leukste merken en winkels op één website te verzamelen maken we het makkelijker om duurzame mode te vinden. Neem eens een kijkje in onze shopsectie!