OEKO-TEX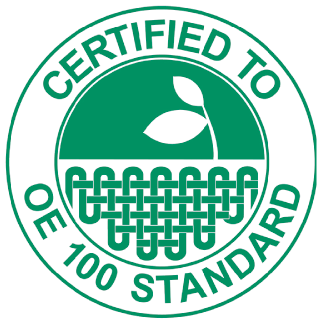 In het kort
Hoofdcategorie: Milieuvriendelijk
Universele standaard voor wereldwijde
fabrieken
Onafhankelijke tests
Verschillende standaarden met
verschillende criteria
Oeko-Tex Standard 100 is alleen
actief op het testen op gevaarlijke
stoffen in het eindproduct
OEKO-TEX is tot stand gekomen zodat bedrijven makkelijker kunnen zien aan welke standaarden fabrieken voldoen. Omdat het productieproces in de textiel industrie vaak verspreidt is over meerdere landen en er in elk land andere regels gelden betreffend veiligheid en milieu, is het voor bedrijven moeilijk te achterhalen aan welke voorwaarden fabrieken precies voldoen. De OEKO-TEX certificering helpt door een universele standaard te maken. Er zijn verschillende standaarden:
OEKO-TEX Standard 100
OEKO-TEX Standard 100 is een onafhankelijk test en certificatiesysteem voor beginstoffen van textiel-, tussen- en eindproducten in alle stadia van de productie. Producten die gecertificeerd zijn bevatten geen gevaarlijke stoffen. De stoffen waarop getest wordt zijn: Illegale substanties, wettelijk gereguleerde stoffen, bekende schadelijke stoffen en parameters voor de gezondheidszorg. De doelgroep waarvoor het product is bedoeld bepaald hoe er getest wordt. Er zijn 4 verschillende doelgroepen: Textiel voor baby's en kleuters tot 3 jaar, textiel voor dicht op de huid, textiel voor verder weg van de huid (jassen etc.), meubels. Er wordt voor dit keurmerk dus verder geen rekening gehouden met milieuvriendelijke of sociale productie, alleen of het textiel geen schadelijke stoffen bevat.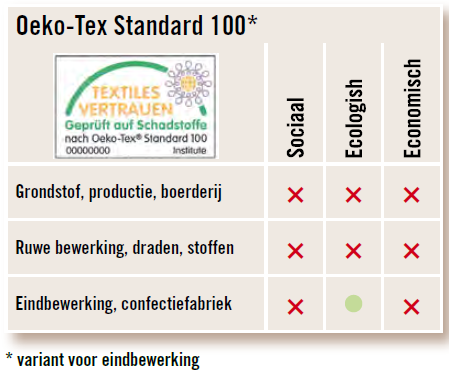 Bron: Goede Waar
Made in Green by OEKO-TEX
De eisen voor deze standaard is net als bij OEKO-TEX Standard 100 dat er geen gevaarlijke stoffen zitten in de producten. Daar wordt aan toegevoegd dat het textiel is gemaakt m.b.v. milieuvriendelijke processen en onder veilige en sociaal verantwoordelijke voorwaarden.
STeP by OEKO-TEX
STeP staat voor Sustainable Textile Production, of duurzame textiel en is een nieuw OEKO-TEX keurmerk voor merken, kleinhandel bedrijven en fabrieken die hun prestaties op gebied van duurzaamheid willen communiceren naar de consument op een transparante, geloofwaardige en duidelijke manier. Het STeP certificaat laat de score zien van een bedrijf op hun prestatie van duurzame productie en werkomstandigheden. Er zijn drie scores die behaald kunnen worden:
Level 1: instap

level 2: goede implementatie met optimalisatie potentie

Level 3: toonbeeld van implementatie.
Meer informatie is te vinden op:
Project Cece is een verzamelwebsite voor eerlijke en duurzame mode. Door de leukste merken en winkels op één website te verzamelen maken we het makkelijker om duurzame mode te vinden. Neem eens een kijkje in onze shopsectie!