Met de Coronacrisis in volle gang moeten we allemaal ons best doen om onszelf en anderen zo goed mogelijk te beschermen. Een mondkapje op doen als je naar buiten gaat, is dan ook een erg goed idee. Maar ziekenhuis mondkapjes kopen moet je absoluut niet doen! Daar is namelijk een tekort aan en moet alleen door professionals die het echt nodig hebben gebruikt worden.
Omdat we ons toch allemaal willen beschermen, maar geen mondkapjes willen hamsteren is een zelf gemaakt mondkapje een erg goed idee. Daarnaast is het ook nog eens leuk om te maken en een goed projectje nu je toch binnen moet blijven.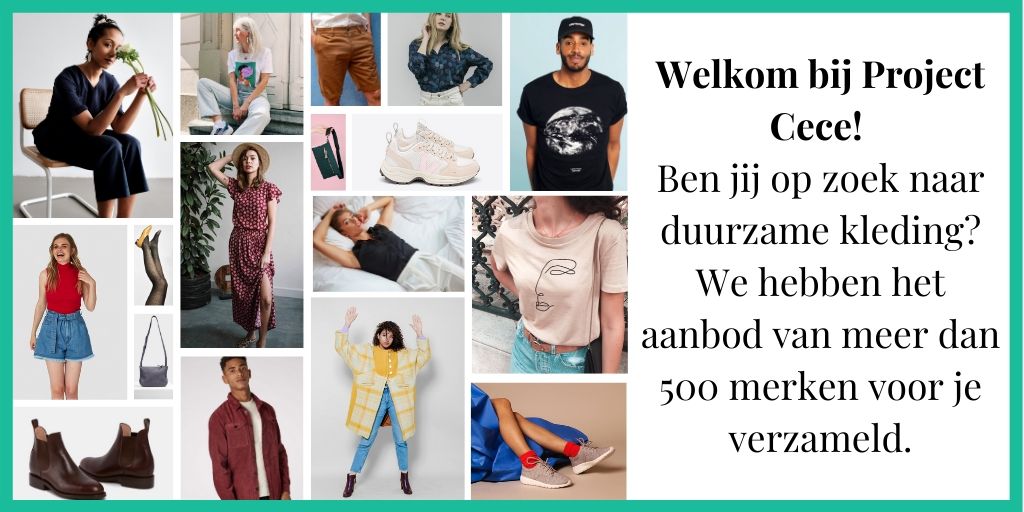 Hoe goed werkt een zelfgemaakt mondkapje tegen COVID-19?
Een zelfgemaakt mondkapje is natuurlijk nooit zo goed als ziekenhuis mondkapje en moet dus ook nooit ter vervanging worden gebruikt. Dit mondkapje zorgt er dus ook niet voor dat je met symptomen van COVID-19 over straat mag, of je helemaal beschermt tegen anderen.
Een zelfgemaakt mondkapje heeft bij een virus zoals COVID-19 ongeveer 50% van de effectiviteit van een ziekenhuismondkapje. Dat is dus zeker beter dan niks en een erg goede optie voor als je even een boodschapje gaat doen.
Welk materiaal kun je het best gebruiken voor een DIY mondkapje?
Hier is gelukkig onderzoek naar gedaan! De beste materialen die je kunt gebruiken (van de dingen die je in huis hebt), zijn een oud T-shirt of een kussensloop. Dit komt uit een onderzoek van Cambridge University, waar ze zagen dat een T-shirt 51% (100% katoen shirt) tot 70% (katoen mix) van het virus tegenhoudt.
Een theedoek hield wel 73% tegen en dat is best goed als je het vergelijkt met 89% die en echt ziekenhuismaskertje tegenhoudt. Helaas kun je daar niet echt makkelijk door ademen waardoor de Cambridge toch aanraadde om een mondkapje te maken van een T-shirt of kussensloop (houdt 57% van virussen tegen).
Dubbel materiaal lijkt niet zoveel uit te maken. Het scheelt ongeveer 1% en het maakt ademhalen wel wat lastiger. Twee theedoeken over elkaar leken dan wel weer echt heel goed te zijn, maar je krijgt dan ook geen lucht meer, dus dat heeft niet echt zin.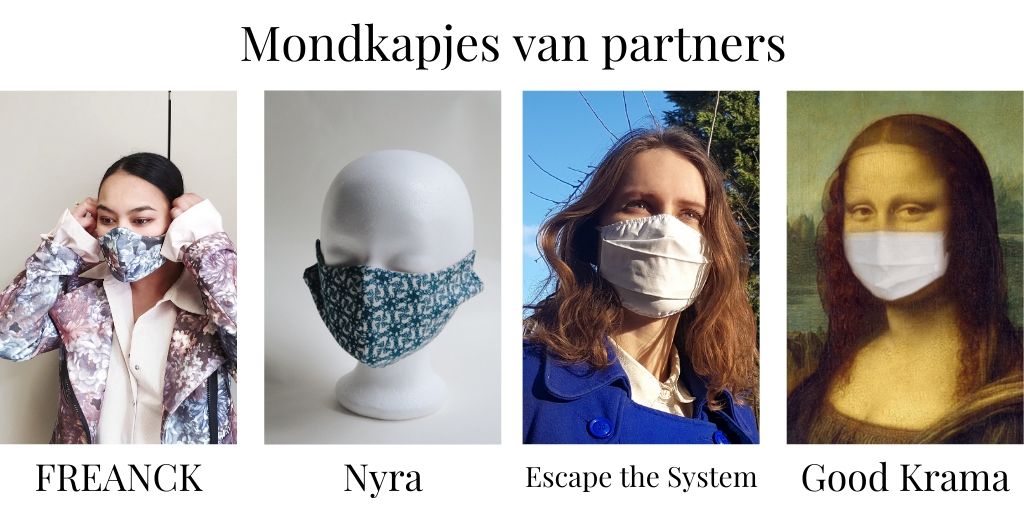 Stappenplan voor het maken van een mondkapje:
Wij hebben voor het maken van een mondkapje het patroon gebruikt dat Rianne de Witte heeft gemaakt. Zij is een duurzame mode designer die prachtige items maakt die je hier kunt vinden. Het patroon kun je hier downloaden in pdf.
Benodigdheden:
Oud T-shirt, kussensloop, of andere stof die je overhebt (iets is beter dan niets).
Schaar
Naald en draad (of naaimachine als je die hebt)
Elastiek, kan eventueel ook met een lintje of touwtje, maar liever elastiek.
Potlood, krijtje of pen.
Spelden
Patroon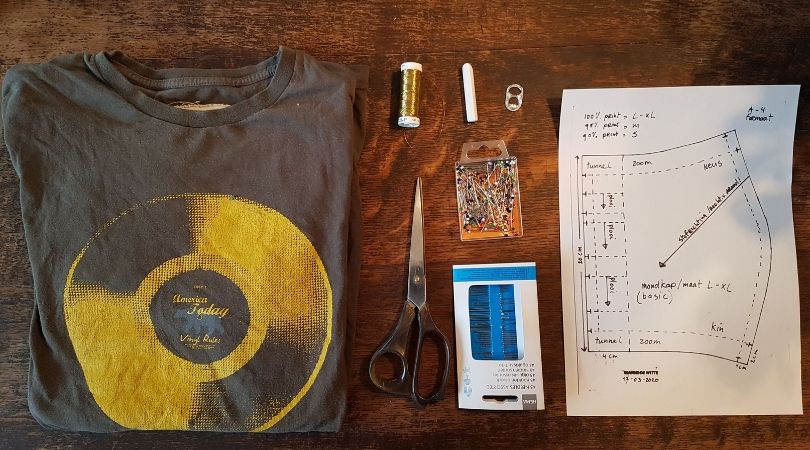 1. Kies het juiste patroon en teken het op je stof.
Het patroon dat Rianne heeft gemaakt kun je printen voor een maatje L, stel je printer in op 95% voor een maatje M en op 90% voor een maatje S. Knip het patroon voor het gemak uit. Neem het materiaal dat je wil gaan gebruiken en vouw het dubbel. Teken het patroon op de stof.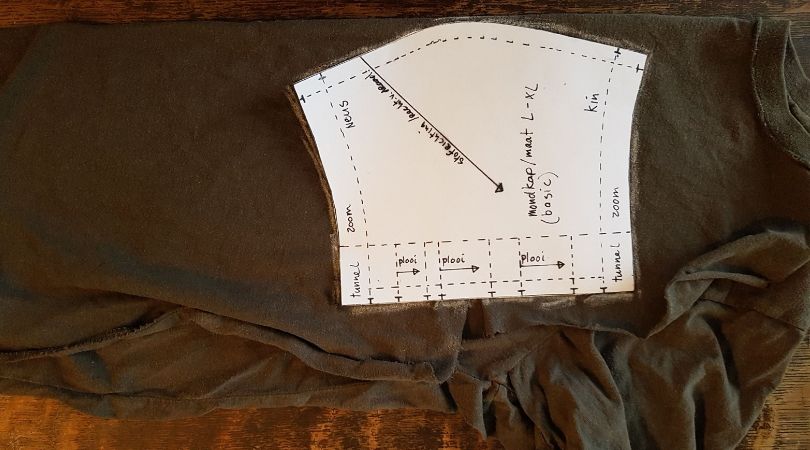 2. Spelden en knippen
Knip het patroon uit de (dubbele) stof. Als je het moeilijk vindt om de dubbele stof te knippen, speld de stukken stof dan aan elkaar.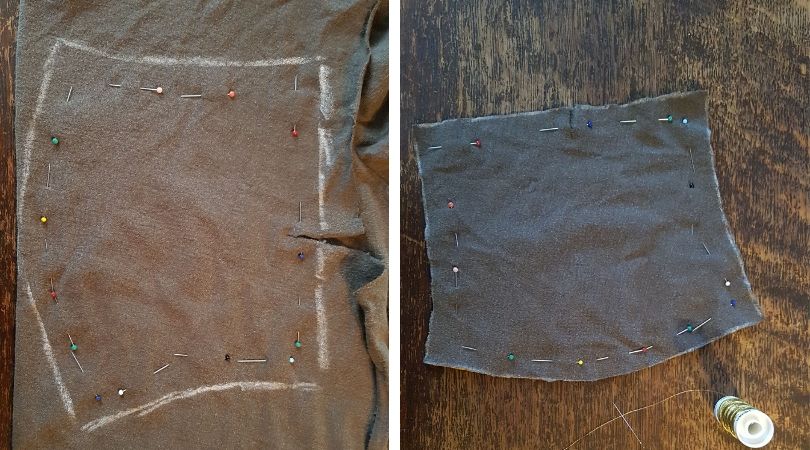 3. Voorkant naaien
Naai met een fijn steekje de bolle kant aan elkaar zoals op de stippellijn is aangegeven. Blijf ongeveer 1 cm van de kantlijn. Dit is ook fijn om even te spelden van tevoren.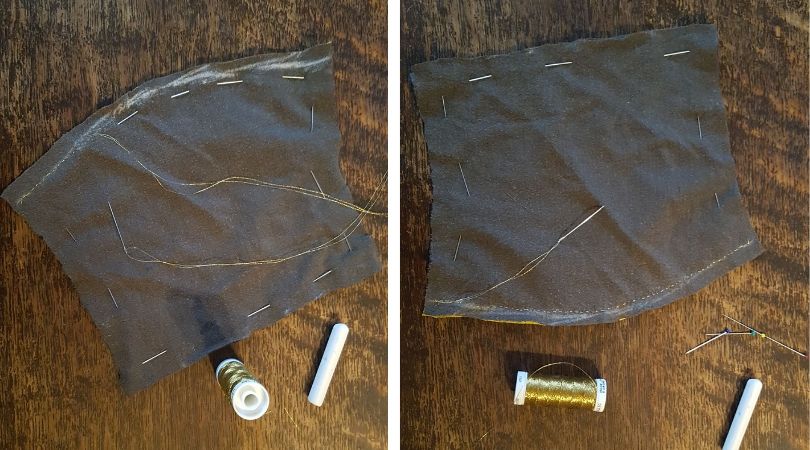 4. Zoomen naaien aan de onder en bovenkant.
De stoffen zijn nu aan elkaar bevestigd en je kunt ze us openvouwen. Daarna kun je direct de zoomen omvouwen zoals op het patroon en de foto hieronder is aangegeven. Hiervoor kun je een wat simpelere steek gebruiken, want dit is vooral voor de netheid.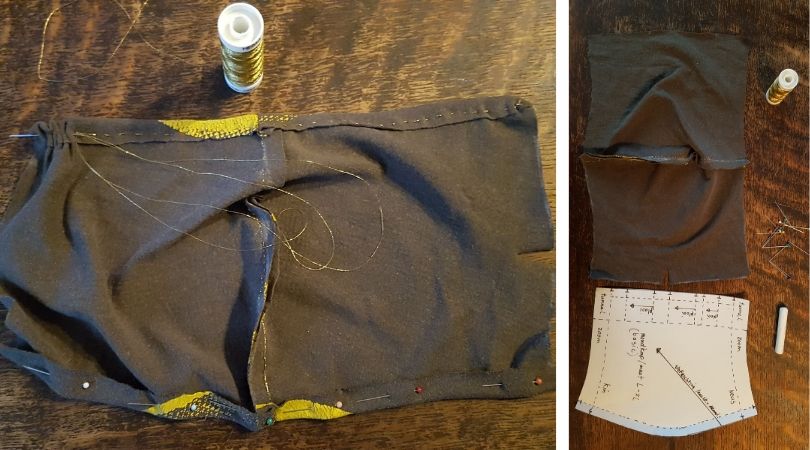 5. Maak de tunnel aan de twee zijkanten.
Dit is het stukje waar we het elastiek aan vast gaan maken. We vouwen de stof aan de uiteindes een stukje dubbel over de tunnel stippellijn, en naaien het aan het einde van de stof aan het geheel vast. Nu moet je nog je elastiek door de tunnel krijgen.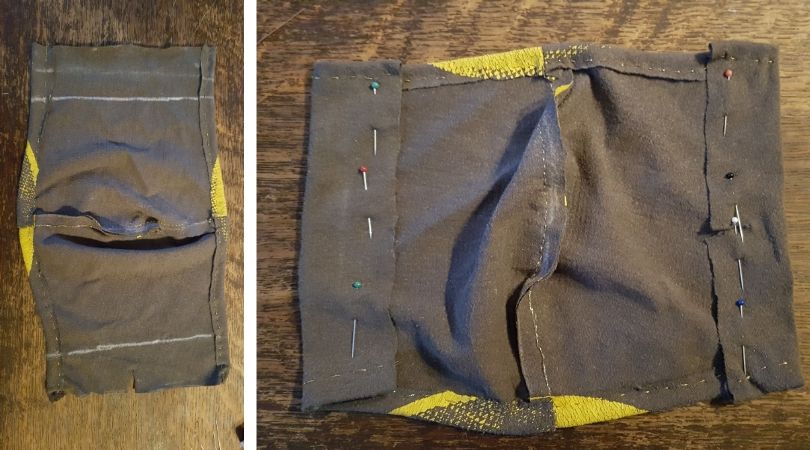 6. Elastiek door de tunnel.
Als je je elastiek makkelijk door de tunnel kunt krijgen dan is dat natuurlijk mooi. Anders raden we een veiligheidsspeld aan om aan je elastiek te bevestigen. Die kun je vervolgens door de tunnel heen duwen. Heb je even geen veiligheidsspeld? Wij gebruikten het lipje van een blikje fris, dat werkte namelijk ook.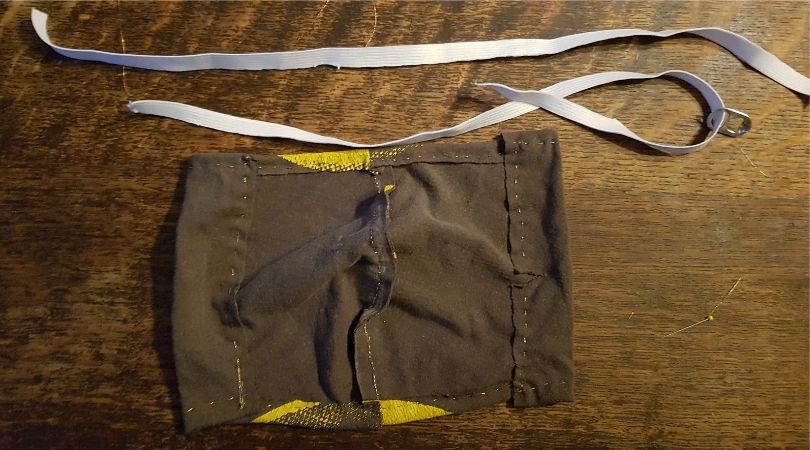 7. Elastiek goed strak om de oren en klaar!
Je moet nu alleen nog je elastiekje aan elkaar vastbinden zodat het kapje achter je oren bevestigd kan worden. Doe maar lekker strak zodat het kapje zo goed mogelijk afsluit! De echte pro kan nog mooi de plooien erin maken zoals het patroon staat, maar dat hoeft niet per se.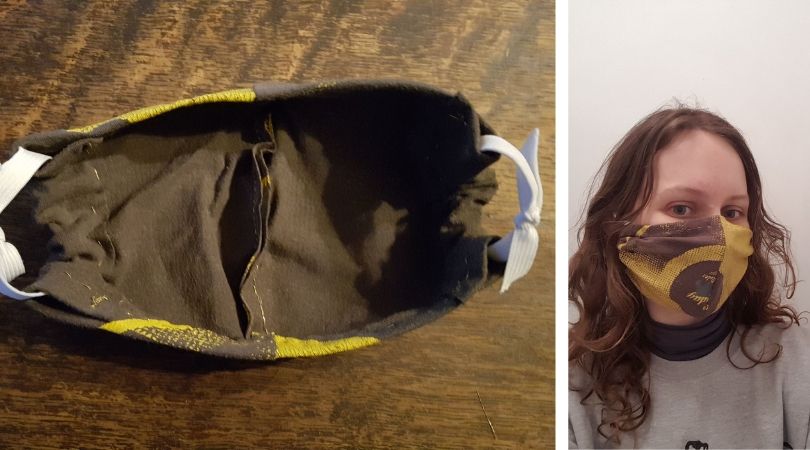 Veel plezier met het maken! Laat ons op social media zien hoe jouw mondkapje is geworden door ons te taggen.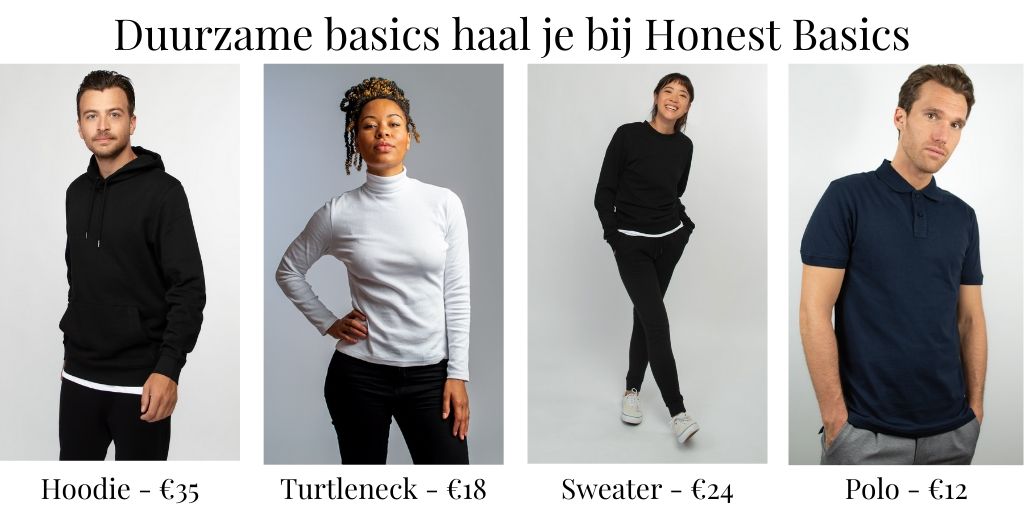 Gerelateerde artikelen:
Project Cece is een verzamelwebsite voor eerlijke en duurzame kleding. Door de leukste merken en winkels op één website te verzamelen maken we het makkelijker om duurzame mode te vinden. Neem eens een kijkje in onze shopsectie!