Volgende week is het alweer Halloween! Tijd voor een griezelig feestje dus. Helaas zit er aan Halloween een echt griezelig randje. Namelijk een gigantische plastic verspilling! Gelukkig zijn er meer dan genoeg manieren om je Halloween op een plastic-vrije, duurzame manier door te komen.
Duurzaam en plastic-vrije Halloween outfits
Een hele nieuwe outfit kopen die je alleen deze halloween gaat dragen is natuurlijk een beetje zonde. Uit onderzoek van Failyandtrust blijkt van alle Halloween kostuums die er worden gekocht er 4 uit 10 maar één keer gedragen worden. Er wordt dus ontzettend veel verspil terwijl dat helemaal niet nodig is.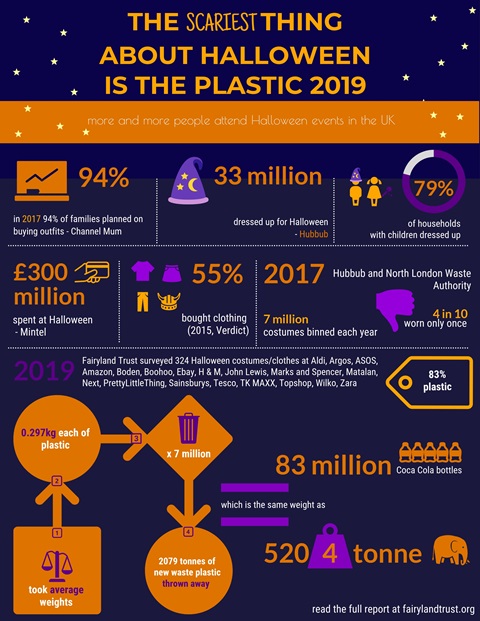 Er zijn meer dan genoeg opties om toch een leuke outfit aan te hebben die wel duurzaam is. Probeer dus iets te verzinnen dat je kunt doen met kleding die je al in je kledingkast hebt, of die je kunt lenen van iemand. En als je dan iets koopt, doe het dan tweedehands en bedenk van tevoren of je het in het normale leven ook aan kan.
Hier zijn drie outfit ideeën met kleding die ook leuk is om op een gewone dag te dragen.
Winnie de Pooh outfit:
Combineer een geel jurkje of gele broek met een rood T-shirt. Schmink een zwart neusje van een beer op je gezicht en kijk of je nog een passende honingpot kunt vinden en Tada! Je bent Winnie de Pooh.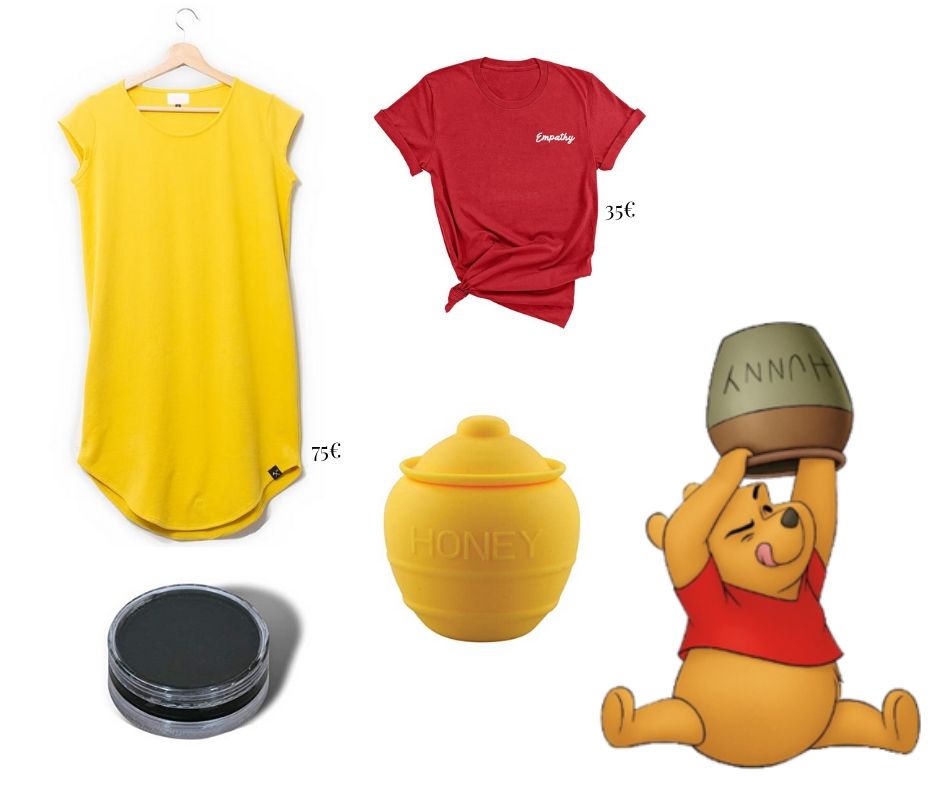 Geel jurkje van The Driftwood Tales en rood shirt van Ubuntu-Wear.
Waldo outfit:
Oud maar goud! Combineer een spijkerbroek met een rood wit gestreept shirt. Doe er een witte (of rode) en maak er een pomponnetje bij in het rood (of wit) die je aan het topje vast speld. Maak het af met een ronde zwarte bril die je kan maken van karton, of misschien kan lenen. Nu maar hopen dat iemand je kan vinden op het feestje ;).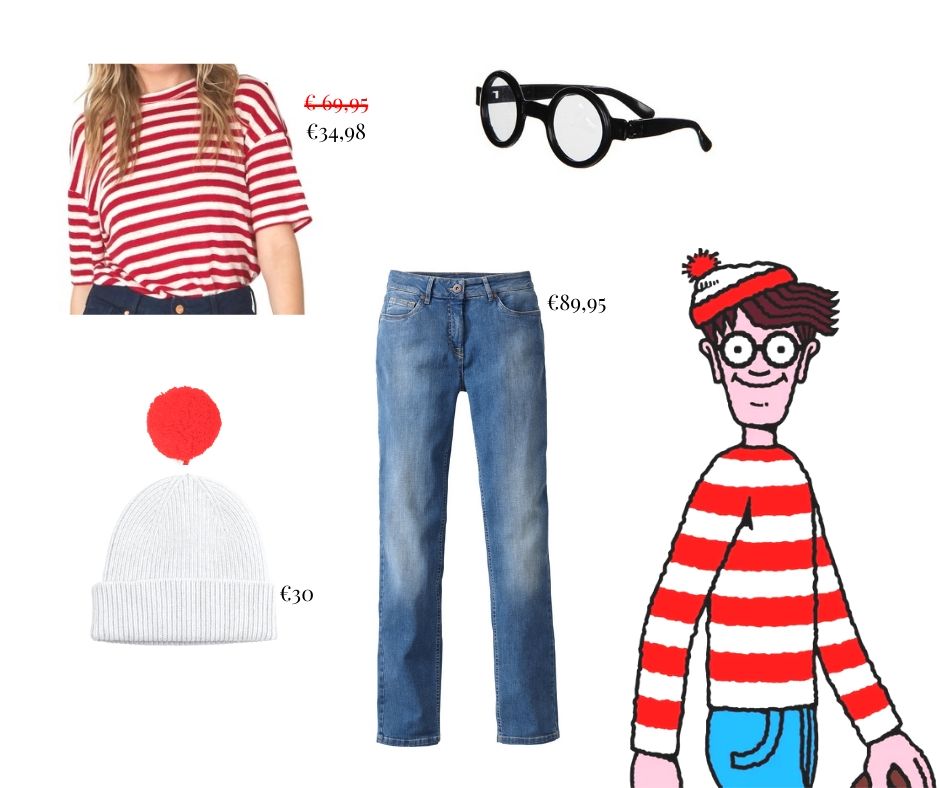 Shirt van Kings of Indigo, spijkerbroek van Waschbär, en beanie van hatsup
We Can Do It!
Deze klassieker moet te doen zijn. Met een rode bandana om je hoofd en een demin shirt ben je eigenlijk al klaar! Maak er nog van een stuk karton een 'We Can Do It!' praatwolkje bij en je mag zonder schaamte de hele avond over vrouwenrechten schreeuwen! Heb je geen karton? Je mag altijd wat komen halen bij ons op kantoor. We hebben meer dan genoeg!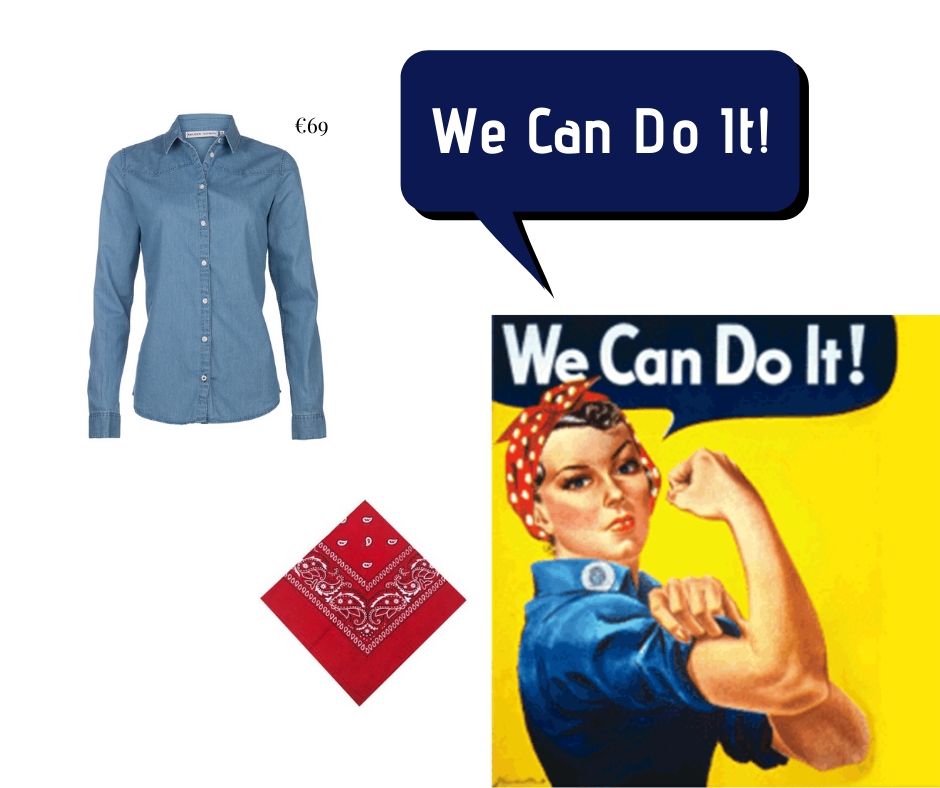 Shirt van Marjolein Elisabeth.
Naast leuke outfits zoals deze is er nog meer dan genoeg outfit inspiratie te vinden op het internet, waar je geen nieuwe kleding voor hoeft te kopen. Zoals een 50 shades of grey kostuum waarbij je grijze verfstalen op je T-shirt plakt.
Heb je nog wat duurzame make-up en glitters nodig? Die vind je hier!
Plastic vrije Halloween versiering en snacks!
Nummer één van op de Halloween versieringlijst is natuurlijk een leuk uitgesneden pompoen. De pitten kun je roosteren (volgens dit recept) dus dan heb je meteen snacks voor op je feestje. De pompoen natuurlijk na Halloween wel opeten!
Plastic bekers zijn altijd een grote verspiller op feestjes. De oplossing hiervoor is natuurlijk simpelweg om gewone bekers en glazen te gebruiken. Maar genoeg bekers hebben kan nog knap lastig zijn! Als je er niet genoeg hebt (of mensen niet vertrouwd met je mooie kopjes), maak het dan een bring-your-own-cup feestje van!
Voor lichtjes kun je al wat kerstverlichting uit de berging halen. Gooi wat gummiwormpjes in een rode punchbowl en je feestje kan beginnen!
Gerelateerde artikelen
Project Cece is een verzamelwebsite voor eerlijke en duurzame kleding. Door de leukste merken en winkels op één website te verzamelen maken we het makkelijker om duurzame mode te vinden. Neem eens een kijkje in onze shopsectie!