Jumpsuit Jaya Rost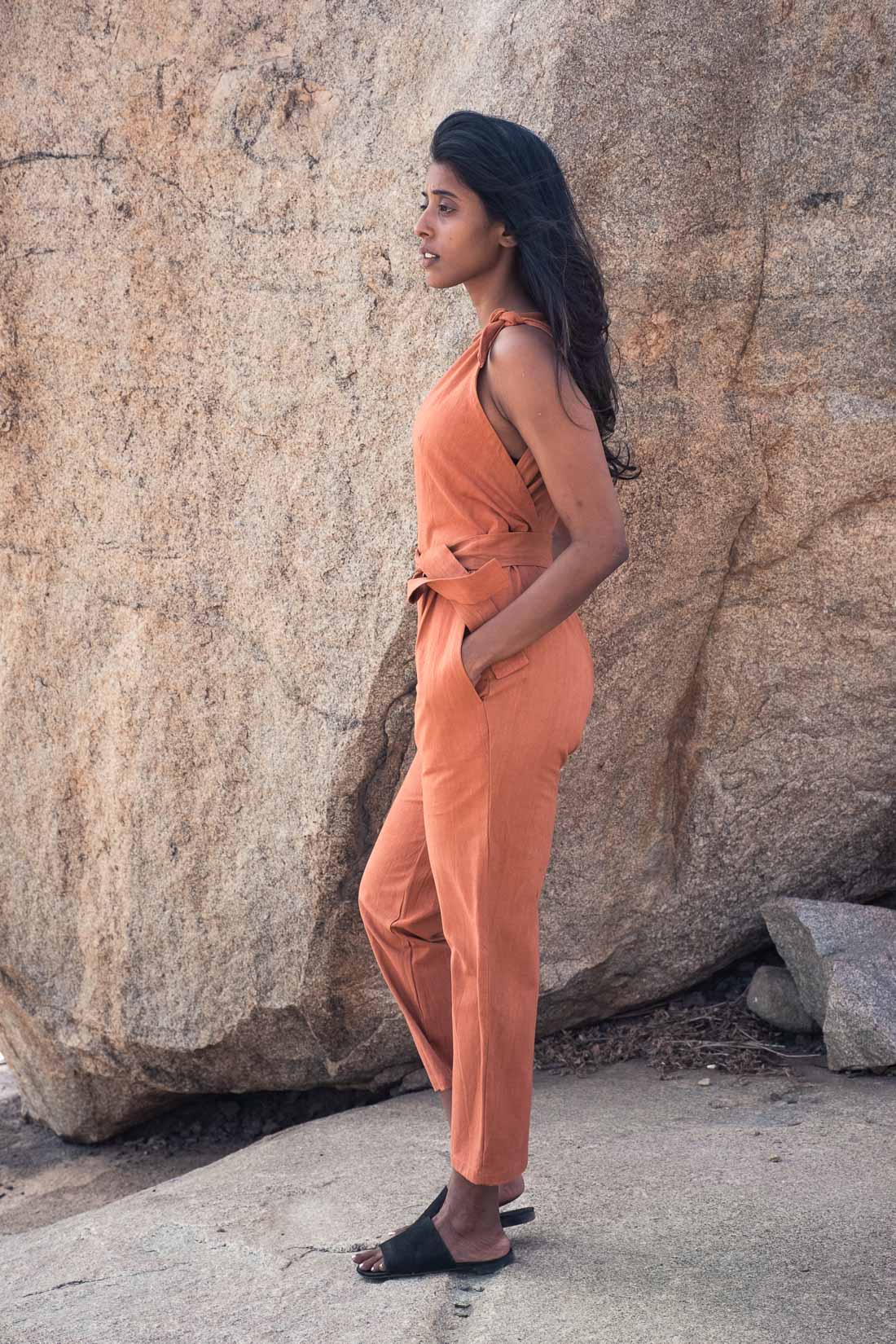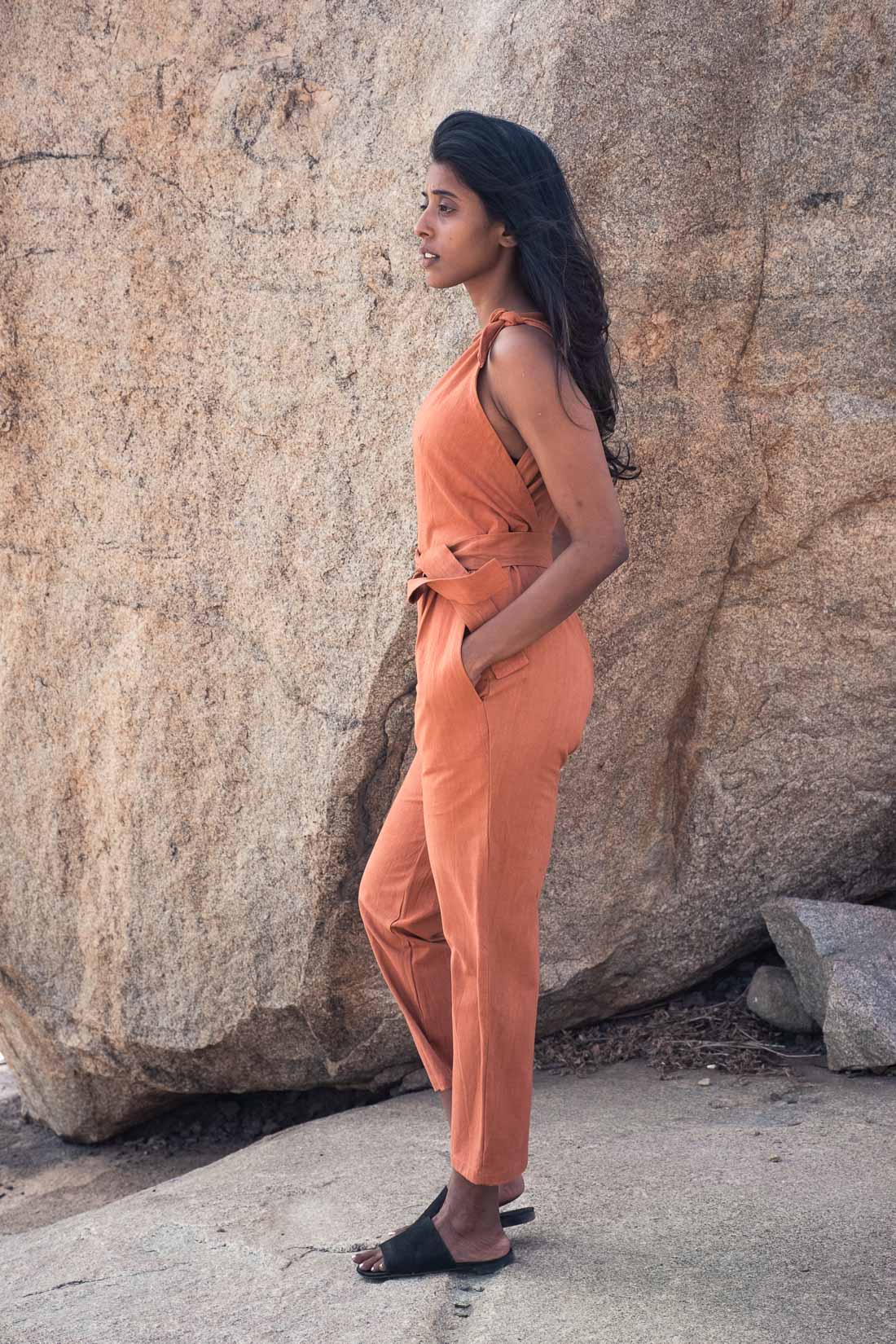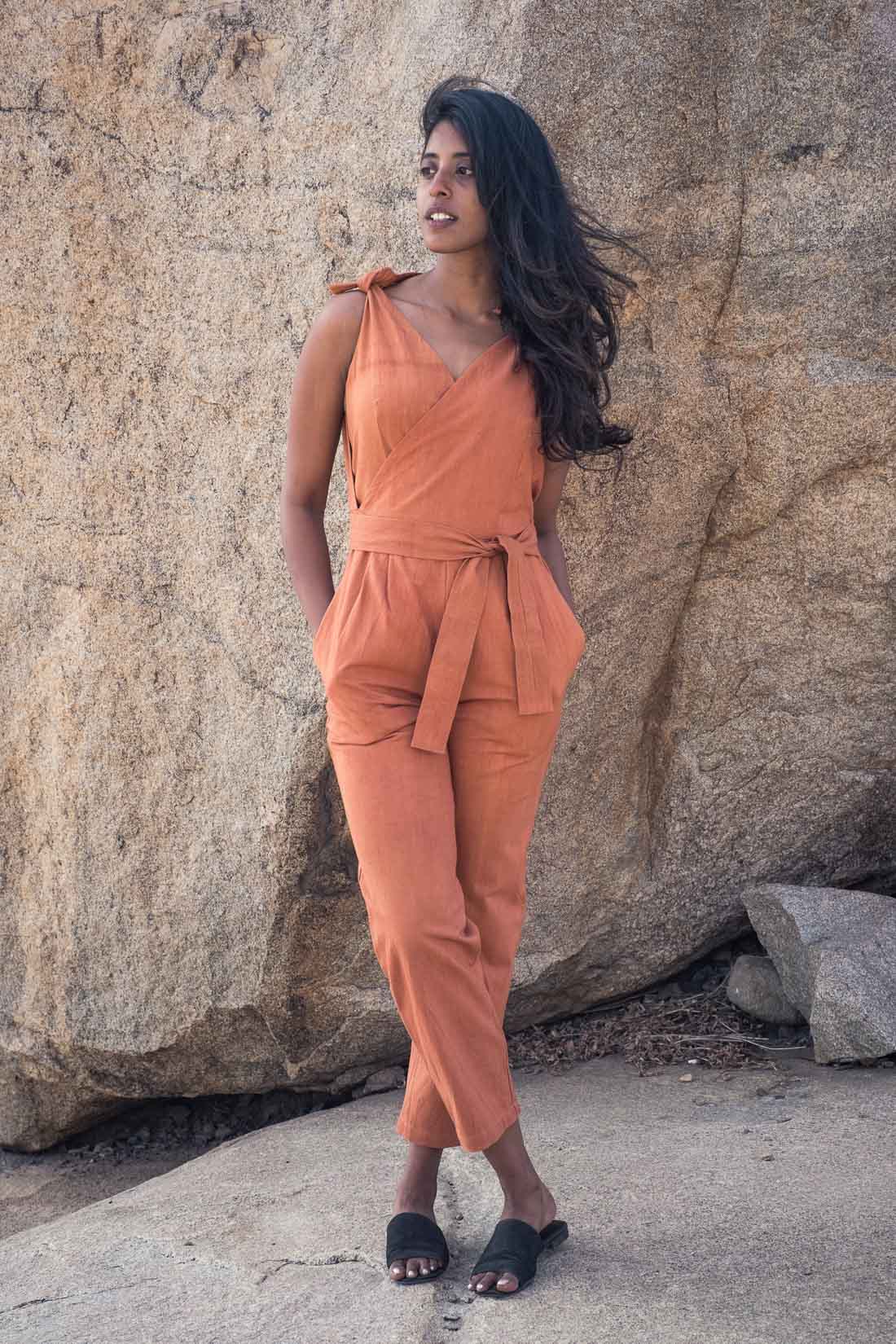 Jumpsuit Jaya is the perfect companion for any occasion. Its rust-coloured, strong cotton is super comfy and on top of that looks just great – whether combined with casual sneakers for a lazy Sunday or elegant shoes for your friend's wedding.
Its fit is easily adjustable through little knots on the shoulders that will allow you to adapt it to your very individual height. The wrap-optic of its top is a very special eye-catcher and its zipper at the back allows you to easily slip in and out of it. And last but not least: of course, Jaya has two spacious side pockets as we believe that female clothes without pockets are so yesterday.

Color: Rust
Material: 100% cotton
Clasp: Little knots to adjust the size as well as a zipper at the back
Design: Our Jumpsuit Jaya distinguishes itself by its great fit and its refined wrap-optic. Adjustable through knots at the straps and easy to close by a zipper, it will feel like a second skin to you.
Measurements: sizing chart
Height of the Model Indu: 170cm, she is wearing size S
Care Instructions: 30°, not suitable for tumble drying, wash with similar colors to prevent color bleeding

Brand: Jyoti - Fair Works Source: Jyoti - Fair Works
Jyoti - Fair Works is een Duits-Indiaas merk dat produceert op een eerlijke en ecologische manier. Het doel van Jyoti is om kleding te maken waar niet alleen jij blij van wordt, maar de mensen die het maken ook. Dit begint al met de rauwe katoen. De katoen die Jyoti gebruikt is vooral GOTS gecertificeerd eerlijk en organisch, een klein deel is dit nog niet omdat een klein deel van de weefbedrijven waar Jyoti mee samenwerkt nog geen toegang heeft tot gecertificeerd katoen. De samenwerking met Jyoti geeft ze echter de kans om over te stappen naar gecertificeerd biologisch katoen, wat ze binnekort dus ook zullen doen.
De stoffen die Jyoti gebruikt komen van verschillende weefbedrijven. Jyoti stopt er veel moeite in om er zeker van te zijn dat al deze bedrijven eerlijk produceren. Niet allemaal hebben ze certificeringen, vaak omdat dit te duur voor ze is, maar Jyoti is langs elke werkplaats geweest om te kijken hoe het werk er aan toe gaat. Je kunt over alle producenten van Jyoti lezen op hun website..
De kleding wordt vervolgens in elkaar genaaid in een klein naaiatelier in Chittapur door naaisters die sociaal achtergesteld zijn. De elf naaisters die daar werken krijgen een eerlijk loon en krijgen de mogelijkheid tot training en gezondheidszorg. Ze krijgen de mogelijkheid om te werken rondom het schoolschema van hun kinderen en kunnen een rente-vrije lening afsluiten bij Jyoti, voor bijvoorbeeld het investeren in een gaskachel om hun vervuilende houtkachel te vervangen.
Van zaadje tot kledingstuk vindt het hele productieproces plaats in India, door eerlijke en milieuvriendelijke werkomstandigheden te eisen, maakt Jyoti - Fair Works de wereld een beetje mooier.
Praktische informatie:
Verzendkosten: €6,- in Europa
€4,- in Duitsland
Verzendtijd: 4-6 dagen in Europa
3-4 dagen in Duitsland
Adres:
Okerstr. 45
12049 Berlijn
Duitsland
Payment methods: