Op 6 juli zei de duurzame modeontwerpster Stella McCartney in een interview met de Observer dat ze haar pakken nooit wast of naar de stomerij brengt, en voegde daar zelfs aan toe dat je zo min mogelijk moet wassen. Groot gelijk want de impact van je kleding wassen is gigantisch. Maar moeten we dan helemaal stoppen met onze kleding wassen?
Het is een beetje een gewoonte geworden, aan het eind van de dag voordat je naar bed gaat, kleed je je uit en gooi je al je kleding direct in de wasmand. Dit is helaas niet echt een duurzame gewoonte… 1/3 van de milieu impact van je kleding komt door het wassen van je kleding. En dit was al een bekend voordat we leerde hoe groot het probleem was van microplastics. Met elke wasbeurt komen er namelijk tot wel 700.000 microplastics vrij, wat enorm schadelijk is voor het milieu. Het is dus beter om je kleding zo min mogelijk te wassen en het is ook helemaal niet nodig om je kleding na één keer dragen te wassen!
Misschien vind je dit ook interessant: Wassen en drogen met liefde voor het milieu
Waarom wassen we onze kleding zo veel
Het is absoluut niet nodig om je kleding na één keer dragen te wassen, met uitzondering van je ondergoed natuurlijk. Maar waarom denken we dan allemaal dat dit wel nodig is? Het antwoord is simpel: Slimme marketing van wasmiddelfabrikanten. Mac Bishop, de founder van een kledingmerk waarvan je de kleding nauwelijks hoeft te wassen, maakte het mee toen hij voor het marketingteam van Unilever werkte: "De enige manier om een wasmiddelmerk te laten groeien is door mensen te laten denken dat ze heel veel moeten wassen."
Hoe vaak moet je je kleding dan wel wassen
Je ondergoed moet je wel elke dag wassen, maar daarna kun je je al snel aan de regel van Stella McCartney houden: "Als je het niet absoluut moet wassen, was het dan niet." Ze voegt daar aan toe dat je je BH's ook niet elke dag hoeft te wassen, en dat het eigenlijk ook beter is als je deze niet in de wasmachine gooit maar op de hand wast.
Voor de meeste kleding is het erg slecht als je het in de wasmachine gooit. De stoffen vervormen, de kleuren veranderen, en de kleding slijt snel. De CEO van Levi's zegt zelfs dat hij zijn eigen jeans al 10 jaar niet gewassen heeft. Het is enorm slecht voor denim om het te wassen, vooral voor de kleur, maar ook omdat hij dan veel sneller slijt. Daarnaast is het helemaal niet nodig om hem te wassen. Als er een vlek in komt dan kun je die er natuurlijk ook lokaal even uit wassen.
Deze jeans hoef je dus helemaal niet te wassen!
Hetzelfde geldt voor wollen truien, deze moet je sowieso al niet in de wasmachine gooien, want dan is je mooie wollen trui opeens een paar maten te klein! Daarnaast is wol een antibacterieel materiaal en blijft het daardoor lang vrij van luchtjes. Als je vlekken lokaal eruit wast dan is er bijna nooit reden om het kledingstuk helemaal te wassen. Dit geldt voor heel veel kleding en dan zijn er nog een paar trucjes om je kleding langer fris te houden.
Tips om je kleding langer fris te houden
Vind je toch dat je jeans na een week dragen een beetje onfris begint te ruiken? Doe hem in een plastic zakje in de vriezer. Na een nachtje in de vriezer zijn alle geurtjes weg! De geurtjes komen namelijk van bacteriën die door zweet in je kleding terecht komen. Als je je kleding bevriest, dan gaan ze allemaal dood en ruikt het dus weer fris. Zweet zelf is gewoon schoon dus daar hoef je je geen zorgen over te maken. Dit is ook een goede tip voor je sportkleding.
Een andere goede tip om je kleding frisser te laten ruiken is door het een paar uur buiten uit te hangen, of te laten stomen in de badkamer als je aan het douchen bent. De geurtjes gaan eruit en als je zorgt dat er geen vlekken inzitten, dan heb je helemaal geen reden om het te wassen.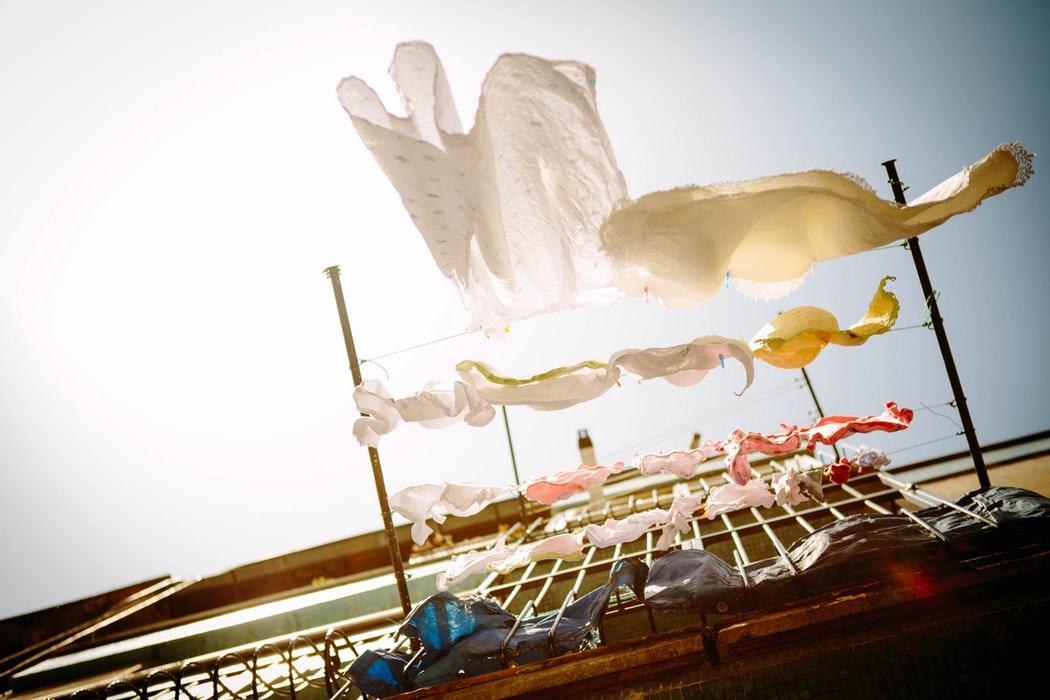 Onze conclusie is dus: Je kan je kleding echt wel een stuk minder wassen! Het kan enorm veel uitmaken voor je milieu impact, het scheelt tijd, geld en je kleding gaat langer mee. Wie durft het ook aan?
Gerelateerde artikelen
Project Cece is een verzamelwebsite voor eerlijke en duurzame kleding. Door de leukste merken en winkels op één website te verzamelen maken we het makkelijker om duurzame mode te vinden. Neem eens een kijkje in onze shopsectie!
Share this post:
Category:: Academy